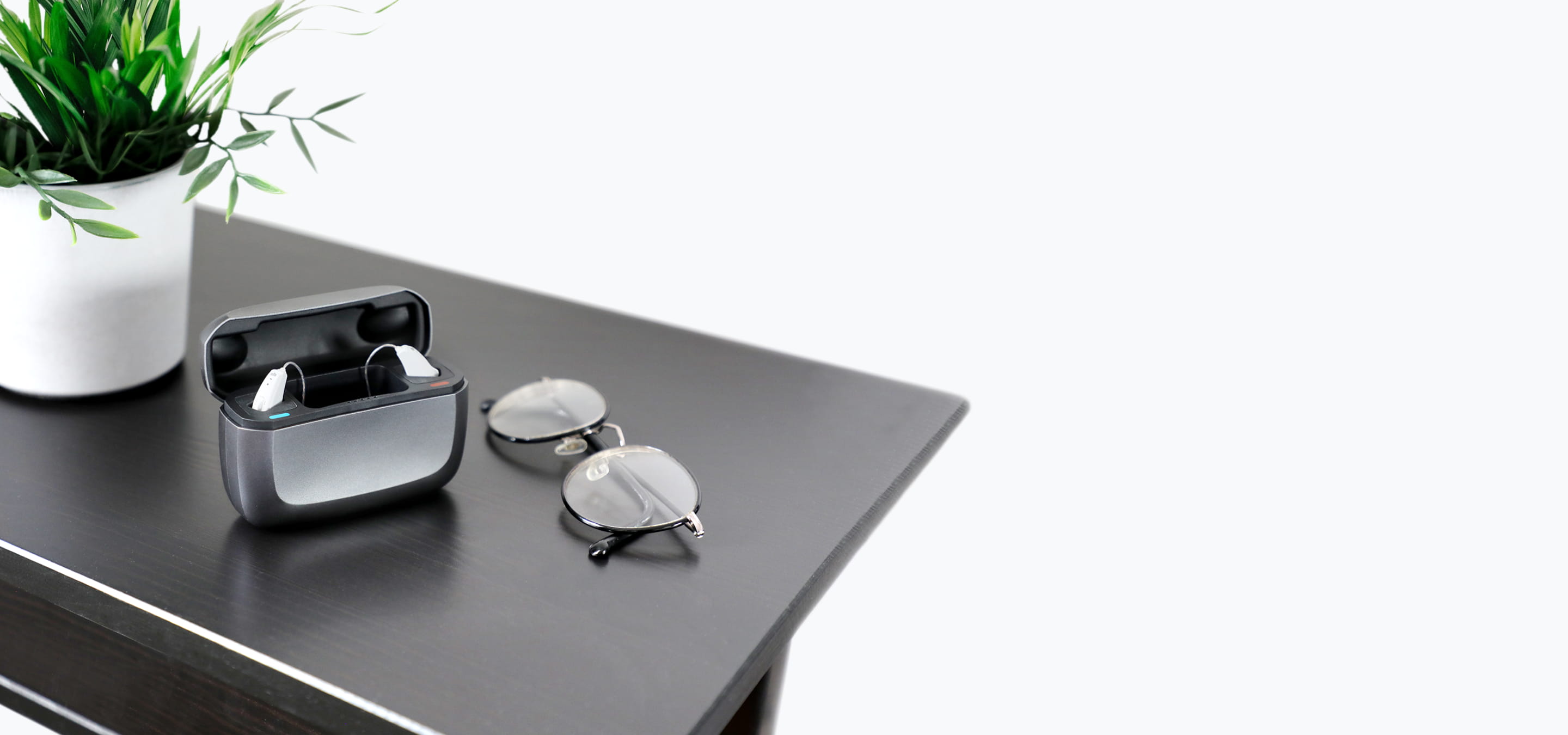 Enhance Select 100
Rechargeable hearing aids with natural sound for active lifestyles.
Most popular

$1,695 or as low as * per pair

The Enhance Select 100, custom-programmed to your unique hearing needs. Plus, 3 years of professional hearing care, warranty and loss & damage protection.

$1,495 or as low as * per pair

The Enhance Select 100, pre-programmed to fit, set up, and manage yourself out-of-the-box. 1-year warranty and loss & damage protection.
Color: Sterling Gray

Select the color that best matches your hair color or skin tone for a nearly-invisible look.
Key features
Speech clarity and noise reduction
Helps you hear naturally, while staying aware of your background
Bluetooth streaming for calls and music

Direct stereo streaming is available for all Apple devices and most Androids. Some older Androids may require an accessory.
100-day risk-free trial
Customer support
Free shipping & returns
FSA and HSA cards accepted
Check out our free online hearing test
See if you may be a candidate for Enhance Select hearing aids in just 3 minutes.
Am I a candidate?
Everything you need for better hearing
Great tech, at a great price

With Bluetooth streaming* and natural sound, our discrete devices are thousands less than the national average price. See compatibility

3 years of hearing care

With our Premium Package, you'll be able to meet with a hearing specialist via video appointments to make ongoing adjustments.

Convenient mobile app

While the app is like a handy remote control, our team can adjust your settings remotely in the app through our Premium Package.
*Direct stereo streaming is available for Apple devices across all our current Enhance Select models and previous models. Most Androids support direct streaming for our current Enhance Select models, while some Androids require an accessory.
Need help choosing a model?
Why you'll love the Enhance Select 100
Great for active lifestyles

Our Enhance Select 100 model offers crisp, natural sound wherever you go and a convenient charging case for on-the-go power.

Designed to reduce unwanted background noise and prioritize speech, this high-performance option is great for tricky listening situations, like a one-on-one conversation in a loud restaurant.

Premium Package Exclusive

Personalized for you

How your brain interprets sound is unique to you. Your hearing aids will arrive custom-programmed based on your test results with our Premium Package, so you'll have personalized sound right out of the box. You can continue to work with our dedicated Audiology Team virtually to refine and maximize performance in everyday life.

Convenient charging case

For on-the-go power, our sleek case holds 3 full charges before having to be plugged in. Each 3-hour charge powers all-day listening, so you'll always have strong and clear hearing wherever life takes you.

3-hour charge All-day power
1-hour charge 15-hour power
10-min charge 2.5-hour power

Premium Package Exclusive

Professional, remote adjustments

With our Premium Package, help is always a tap away. Need a sound adjustment? No need to head to an office or mail in your devices. Our mobile app powers easy remote adjustments from our Audiology Team. Here's how it works:

Answer a few quick questions in the app about your hearing
Our team will review and send adjustments to your phone
Click to upload the new settings right to your hearing aids

Pro tip: You can always book an appointment with your Jabra Enhance hearing specialist to discuss any adjustments.
What's in the Enhance Select 100 kit?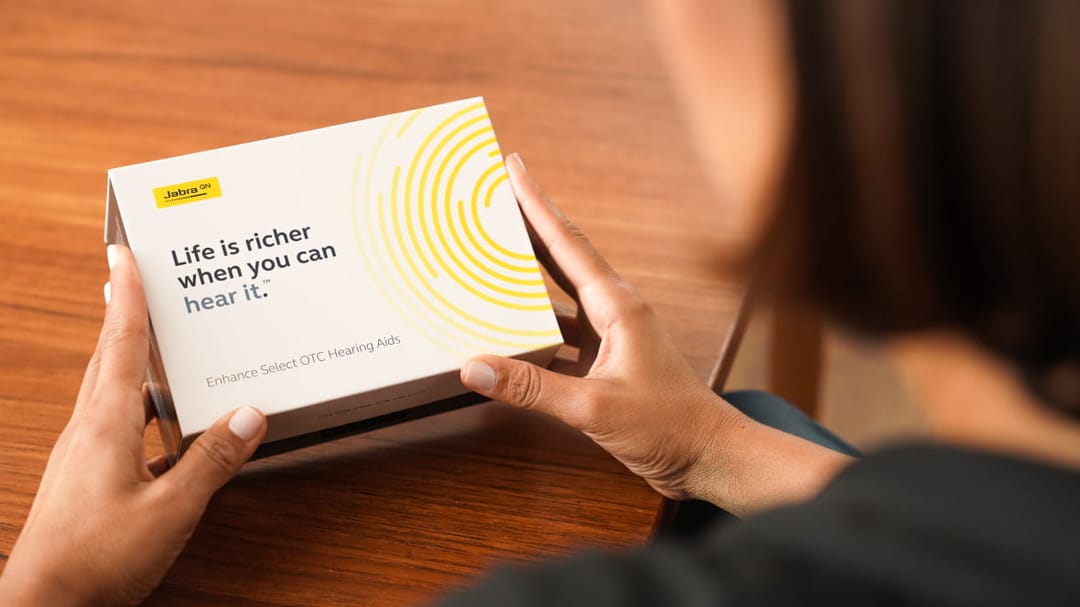 A pair of high-tech hearing aids
Charging case & cord
Cleaning & maintenance tools
Ear measurement tool, with extra dome sizes
Easy step-by-step guides
Free mobile app for easy adjustments
High-Tech. Low cost. No compromises.
How we do it:
Our online business model and optional remote care approach drops our price, and we pass the savings on to you.
Traditional audiologist

$5,000+
Jabra Enhance

$1,695
The reviews are in
4.6 out of 5
(

2629 reviews

)
Fred G.
11/27/23
Good hearing aids
So far, better than the ones I paid twice the money for.
Carroll R.
11/26/23
Easy to manage
Enhance Select 100's help my hearing as expected and their design (using wires) and control via bluetooth from my phone makes them easy to manage. I also like that phone calls and streaming music can be directed to them.
Roy W.
11/26/23
What's That?
It's the best you can buy. That's what! Quality sound and easily adjustable to the current conditions. Array of adjustments for a perfect fit. Quick delivery and meaningful customer service and help. The right price. Hands on down the right choice.
John S.
11/25/23
Still learning and adapting to
Still learning and adapting to the features, but they have been easier to use than my previous hearing aids. I'm hearing sounds I haven't heard in a while and I love being able to adjust them to my environment.
Russell M.
11/24/23
Great purchase
Spent many hours researching hearing aids online. Jabra was always at the top, so I made the purchase. They are as advertised and follow up is great.
All reviews come from customers who purchased our Premium Package or equivalent, and completed an orientation within 30 days of purchase.
Company and model names have been updated to reflect our transition to Jabra Enhance and Enhance Select models.
Go further with high-tech accessories
Supercharge your hearing aids with innovative accessories that conquer challenging situations.
Still have questions?
We have answers
My hearing isn't that bad. Do I really need treatment?

How will hearing aids help me?

Can I wear glasses with these hearing aids?

What's the difference between the Basic Package & Premium Package?

How are your prices so low?

What color hearing aids should I choose?

How tech-savvy do I have to be to use Jabra Enhance Select hearing devices?

How does virtual hearing care work?

How does my hearing professional adjust my setting remotely?

Are Jabra Enhance Select 100 hearing aids over-the-counter?
*Amounts financed range from $50.00 to $10,000.00. Availability of terms may vary based on purchase price and/or product. Down payment may be required. Subject to approval of credit application. Rates range from 0% to 29.99% APR, resulting in, for example, 36 monthly payments of $32.26 at 9.99% APR, per $1,000 borrowed. APRs will vary depending on credit qualifications, loan amount, and term. Bread Pay™ loans are made by Comenity Capital Bank, a Bread Financial™ company.