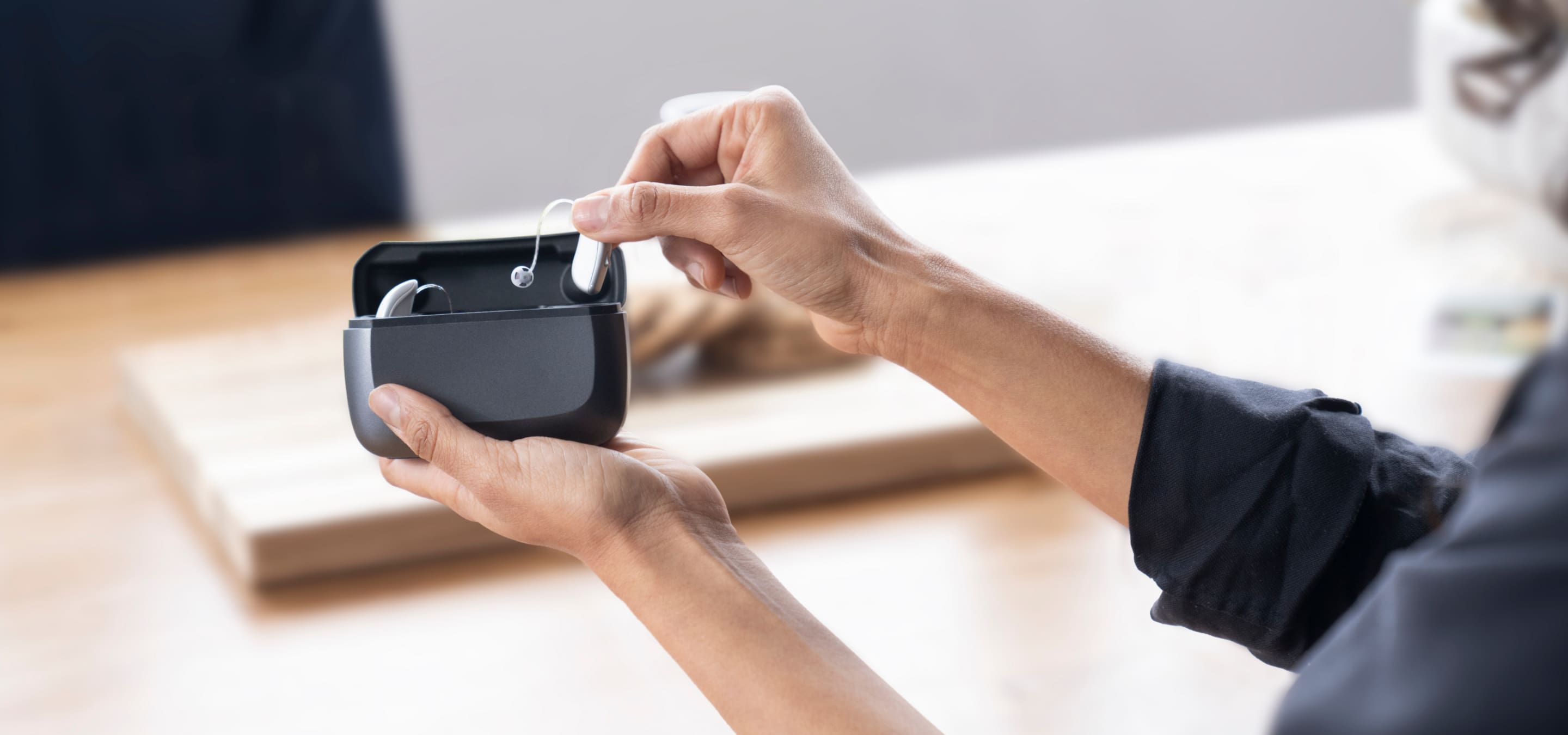 Enhance Select 200
Advanced rechargeable hearing aids with our most natural sound even in the noisiest situations, like a loud party. Packed with extra features like a luxe array of colors and hands-free calling. Our hands-free calling feature requires iPhone 11 or newer and iOS 15.3.1 or later. All other phone and hearing aid models require our Phone Clip+ accessory for hands-free calling.Close
Most popular

$1,995 or as low as * per pair

The Enhance Select 200, custom-programmed to your unique hearing needs. Plus, 3 years of professional hearing care, warranty and loss & damage protection.

$1,795 or as low as * per pair

The Enhance Select 200, pre-programmed to fit, set up, and manage yourself out-of-the-box. 1-year warranty and loss & damage protection.
Color: Sparkling Silver

Select the color that best matches your hair color or skin tone for a nearly-invisible look.
Key features
Smart microphones for our best speech clarity and noise reduction
Automatically adapts to your unique sound environments
Bluetooth streaming, with hands-free calling

Bluetooth streaming is available for all Apple devices and most Androids. Some older Androids may require an accessory. Check your device

Hands-free calling requires iPhone 11 or newer and iOS 15.1. All other phone and hearing aid models require our Phone Clip+ accessory for hands-free calling.
100-day risk-free trial
Customer support
Free shipping & returns
FSA and HSA cards accepted
Check out our free online hearing test
See if you may be a candidate for Enhance Select hearing aids in just 3 minutes.
Am I a candidate?
Try risk-free for 100 days
Experience the comfort and fit of the Enhance Select 200 with a full money back guarantee.
Start your 100-day trial
Everything you need for better hearing
Great tech, at a great price

With Bluetooth streaming* and natural sound, our discrete devices are thousands less than the national average price. See compatibility

3 years of hearing care

With our Premium Package, you'll be able to meet with a hearing specialist via video appointments to make ongoing adjustments.

Convenient mobile app

While the app is like a handy remote control, our team can adjust your settings remotely in the app through our Premium Package.
*Direct stereo streaming is available for Apple devices across all our current Enhance Select models and previous models. Most Androids support direct streaming for our current Enhance Select models, while some Androids require an accessory. Learn more
Need help choosing a model?
Why you'll love the Enhance Select 200
Effortless hearing, everywhere you go

Loud restaurant or busy office? With our most advanced ability to prioritize speech and reduce background noise, you'll enjoy rich sound in even the most complex listening situations — like multiple people speaking in a noisy workplace.

And to help you forget you're even wearing hearing aids, the Select 200 uses advanced tech that's similar to how your brain interprets sound, so you feel immersed in your surroundings.

Packed with extra features

The Select 200 offers hands-free calling for iPhones 11 and newer, meaning you can take calls just like earbuds (no need to hold your phone up). Our hands-free calling feature requires iPhone 11 or newer and iOS 15.3.1 or later. All other phone and hearing aid models require our Phone Clip+ accessory for hands-free calling.

And with colors in sleek, luxe finishes, you can better match your hair or skin to make your hearing aids uniquely yours.

Premium Package Exclusive

Next-level personalization

While all Enhance Select hearing aids are capable of remote adjustments with our Premium Package, the Enhance Select 200 takes it a step further with advanced personalization, like customizable noise filtering and automatic volume control, which automatically adjusts the volume based on your preferences.

Thanks to these advanced customizations, our Audiology Team can further maximize your hearing experience.

Convenient charging case

For on-the-go power, our sleek case holds 3 full charges before having to be plugged in. Each 3-hour charge gives you up to 30 hours of listening. So you'll always have strong and clear hearing wherever life takes you.

3-hour charge 30-hour power
1-hour charge 15-hour power
10-min charge 2.5-hour power

Premium Package Exclusive

Professional, remote adjustments

With our Premium Package, help is always a tap away. Need a sound adjustment? No need to head to an office or mail in your devices. Our mobile app powers easy remote adjustments from our Audiology Team. Here's how it works:

Answer a few quick questions in the app about your hearing
Our team will review and send adjustments to your phone
Click to upload the new settings right to your hearing aids

Pro tip: You can always book an appointment with your Jabra Enhance hearing specialist to discuss any adjustments.
What's in the Enhance Select 200 kit?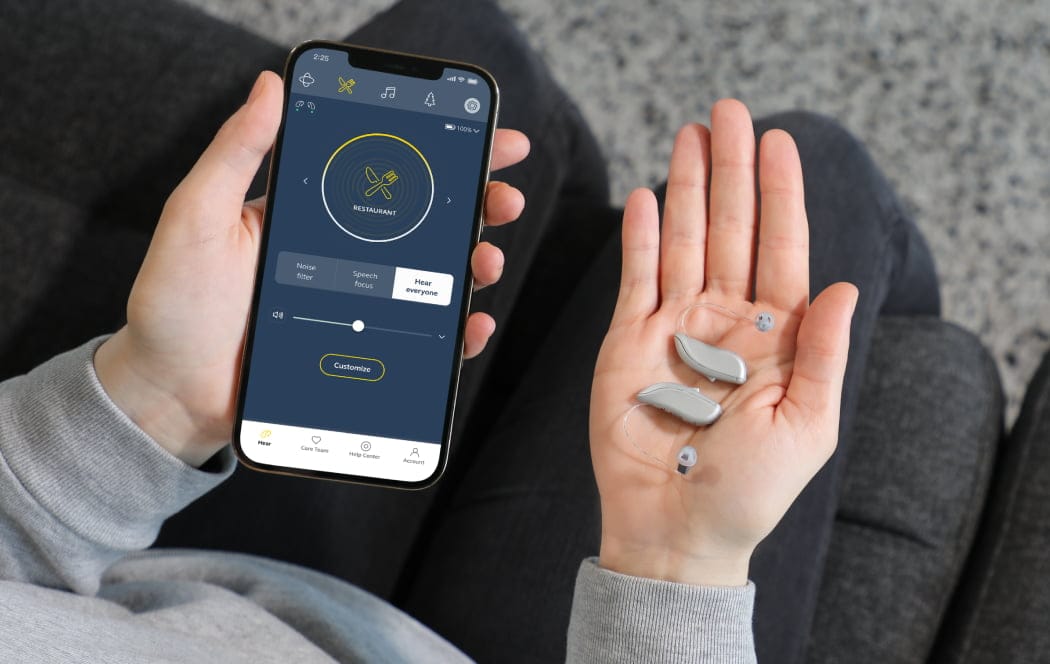 A pair of high-tech hearing aids
Charging case & cord
Cleaning & maintenance tools
Ear measurement tool, with extra dome sizes
Easy step-by-step guides
Free mobile app for easy adjustments
Better hearing for as low as $65/month*
With $0 down and 0% APR available, the Enhance Select 200 is even more affordable with easy financing options.*   Don't worry, checking your options won't impact your credit score.
Learn more
High-Tech. Low cost. No compromises.
How we do it:
Our online business model and optional remote care approach drops our price, and we pass the savings on to you.
Traditional audiologist

$5,000+
Jabra Enhance

$1,995
The reviews are in
Our company and hearing aid model names have been updated in our reviews: company is now Jabra Enhance, and hearing aid model is now Enhance Select.
Benjamin B.
9/17/23
It was a miracle of rare device
So glad I decided to purchase these hearing aids from Jabra. My wife encouraged me to get them and I am grateful she did. I can hear better now than anytime in the last 20 years. It has made a tremendous life change for me. Transformational! I can hear things now that I could not hear before with crystal clear clarity. Holding conversations is a…
Ken J.
9/17/23
Jabra
Excellent hearing aids and excellent service and support.
Beth P.
9/16/23
Jabra enhance select 200
Great hearing aids. Good sound quality. Nearly invisible good value
Marc B.
9/14/23
My Select 200 Experience
Easy to setup and use. Hearing aids work beautifully and Great customer support!
Susan M.
9/13/23
I am hearing much better
I am hearing much better with these new hearing aids . Still getting used to them but it's going well !
Go further with high-tech accessories
Supercharge your hearing aids with innovative accessories that conquer challenging situations.
Still have questions?
We have answers
My hearing isn't that bad. Do I really need treatment?

How will hearing aids help me?

Can I wear glasses with these hearing aids?

What's the difference between the Basic Package & Premium Package?

How are your prices so low?

What color hearing aids should I choose?

How tech-savvy do I have to be to use Jabra Enhance Select hearing devices?

How does virtual hearing care work?

How does my hearing professional adjust my setting remotely?

Are Jabra Enhance Select 200 hearing aids over-the-counter?
*Amounts financed range from $50.00 to $10,000.00. Availability of terms may vary based on purchase price and/or product. Down payment may be required. Subject to approval of credit application. Rates range from 0% to 29.99% APR, resulting in, for example, 36 monthly payments of $32.26 at 9.99% APR, per $1,000 borrowed. APRs will vary depending on credit qualifications, loan amount, and term. Bread Pay™ loans are made by Comenity Capital Bank, a Bread Financial™ company.